Recipes
Home barbecue "grilled meat roll" on an electric griddle.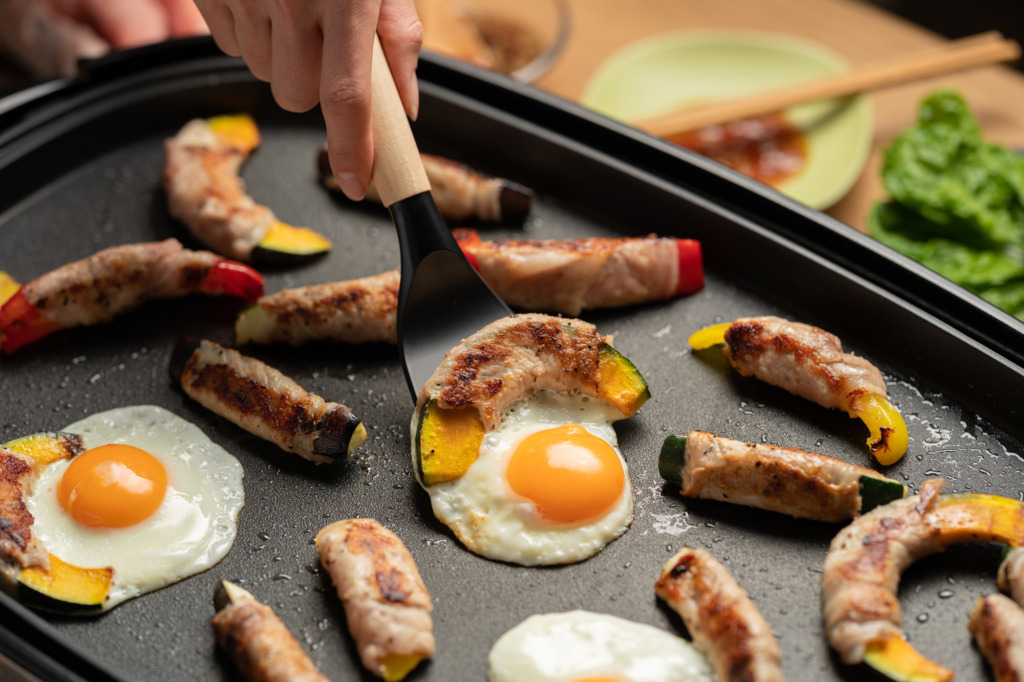 You can eat healthy and plenty of vegetables if those are wrapped by meat.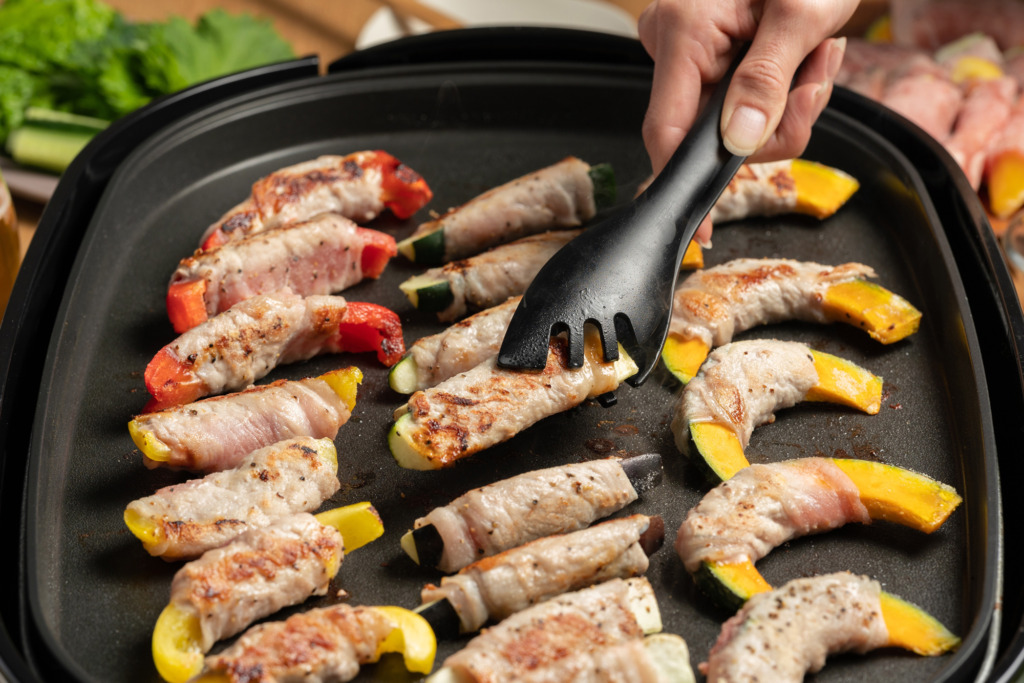 For barbecue that you can enjoy in your house, cover the electric griddle with the lid to keep the air in the room clean.
"Meat roll" wrapped with vegetables is soft and juicy even if the meat is cooked well with the lid on!
Ingredients
For 4-5 people
Sliced pork (beef) 500g-600g * About 30 pieces
Eggplant (100g)
Zucchini (100g)
Pumpkin (100g)
Okra 5 pcs
paprika (100g)
cake flour (some)
Salt and pepper(some)
Oil (a tablespoon)
Egg 4 pcs
*Adjust the ingredients so that they line up on the entire surface of your hot plate.
BBQ sauce (some) ※ homemade BBQ sauce recipe below
Green onion and lemon salt sauce (some) ※homemade BBQ sauce recipe below
Kimchi and lettuce (some)
How to cook
① Remove sepals of eggplant and zucchini and cut into sticks with a length of about 10 cm. Remove the seeds from the pumpkin with a spoon and cut into about 7 mm width. Peels off Okura's the hard stem. Cut the paprika in half vertically, remove the seeds, and divide it into 4 equal parts vertically.
② Take the water from the vegetables with a paper towel, then wrap them with the meat. Lightly sprinkle salt and pepper and sprinkle flour.
③  Pre-heat the electric griddle at 200 degrees and spread the oil on it. Place the meat rolls side by side with the end of the roll facing down, cover the electric griddle, and heat for about 3 minutes.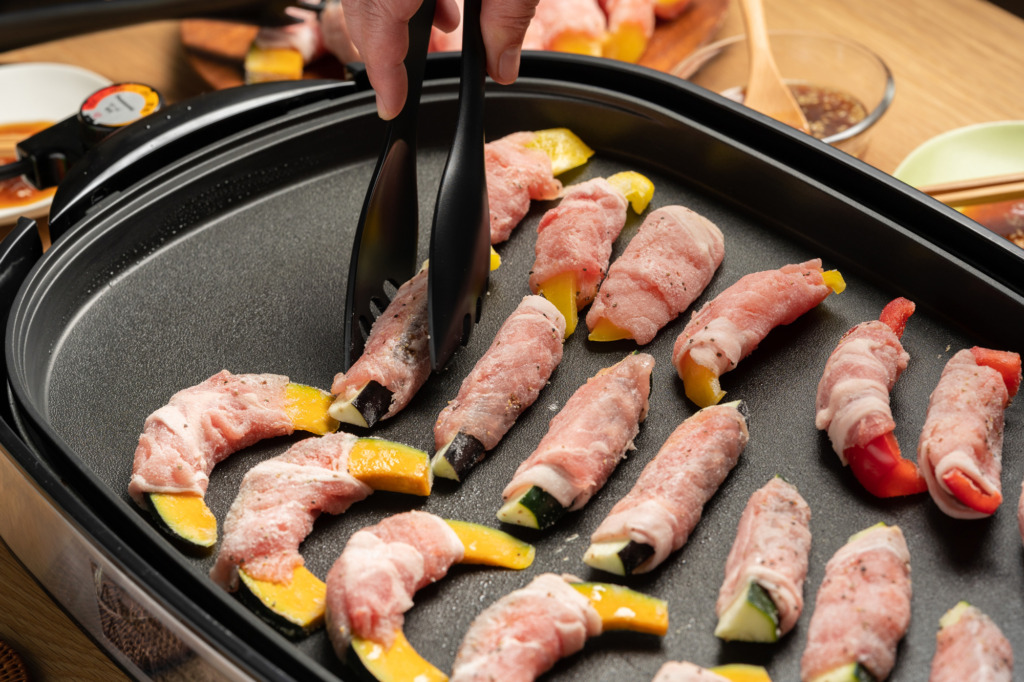 If you cover it and bake it, it will not pollute the air in the room. In addition, the material is fired quickly.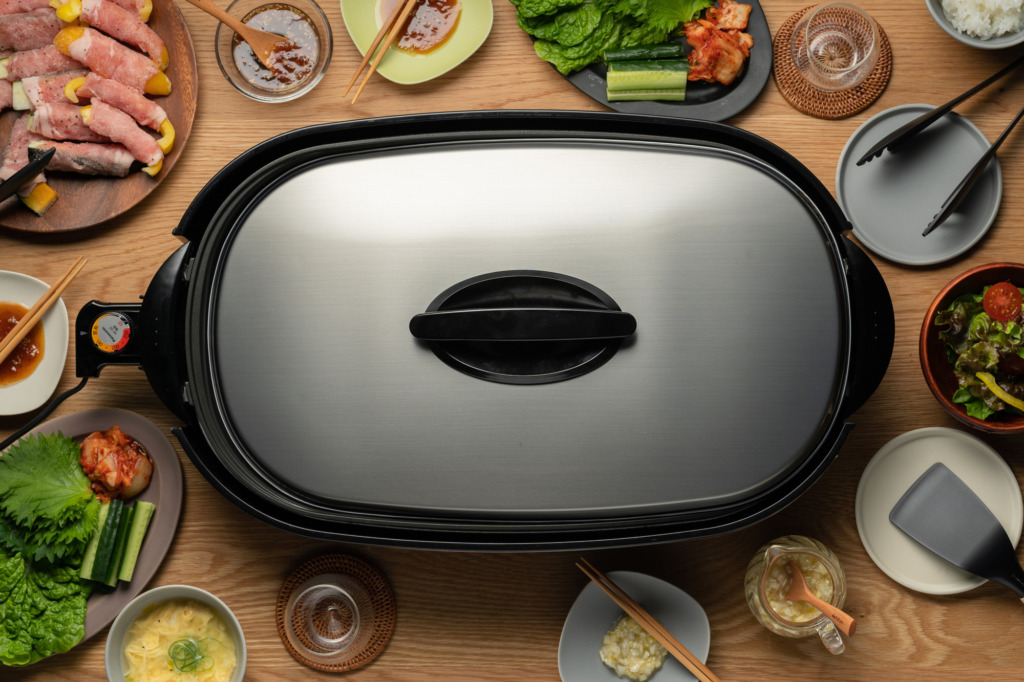 Please adjust the heating time according to the situation.
④ When the bottom is browned, turn them over, cover with a lid. Heat them for about 3 minutes again.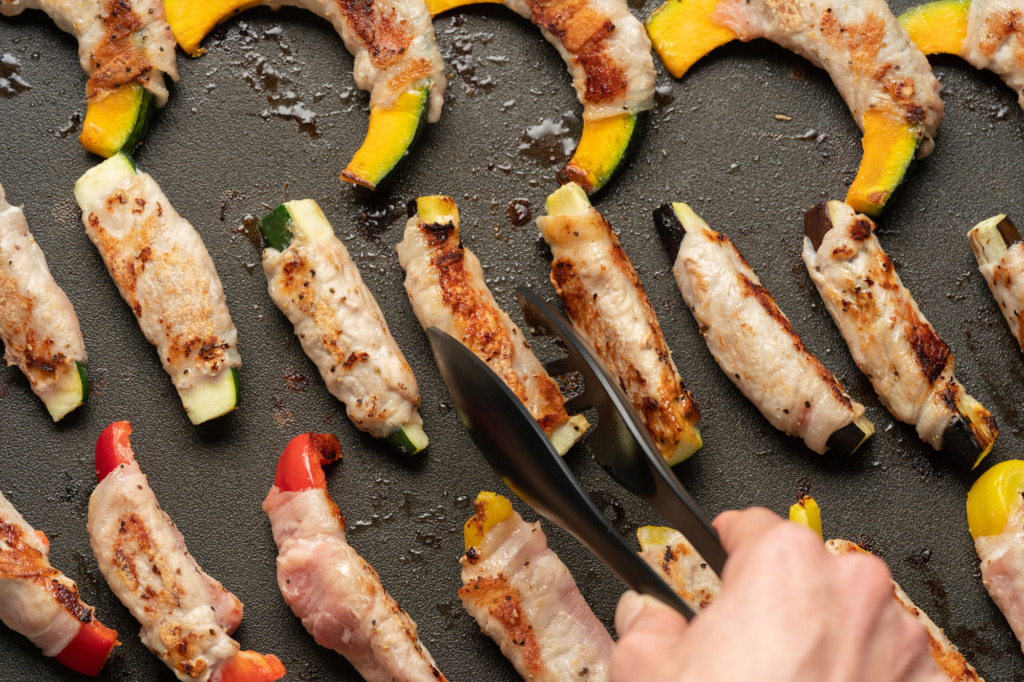 ⑤ Keep warm and insert eggs to make a fried egg if you like.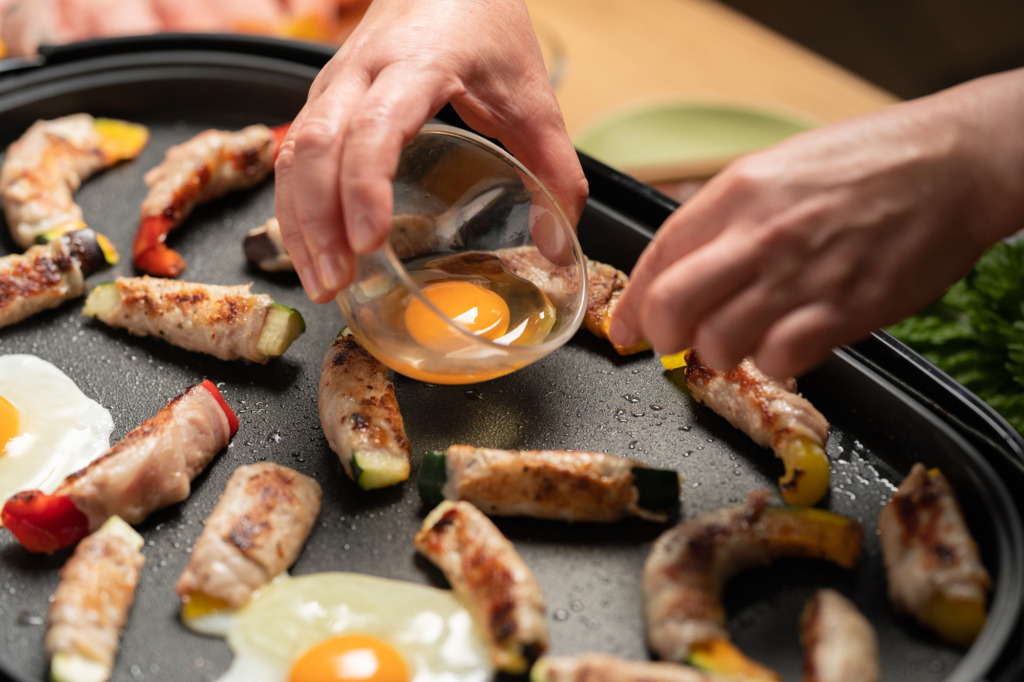 自家製焼き肉のたれ(定番しょうゆ味)
作りやすい分量
※たれは小鍋でコンロで作ります
みりん 1/2カップ
酒 1/2カップ
しょうゆ 1/2カップ
りんご(梨でも) 1/4個 すりおろす
たまねぎ 1/4個 すりおろす
にんにく 1かけ すりおろす
しょうが 1かけ すりおろす
はちみつ 大さじ2
ごま油 大さじ2
いりごま(白) 大さじ2
塩・こしょう 各少々
作り方
小鍋にみりんと酒を入れて中火で熱し、煮立ったら弱めの中火にして1分程度加熱してアルコール分をとばす。粗熱がとれたら他の材料をすべて入れて混ぜる。
ねぎ塩レモンだれ
材料
長ねぎ 1本 ※白い部分を粗みじん切り
塩 小さじ1
レモン汁 大さじ2
ごま油 大さじ2
砂糖 小さじ1/2
黒胡椒 適量
作り方
材料をすべて混ぜる。時間がたつと長ねぎから水分がでてトロリとします。
〆は「ねぎ塩レモンそば」で!
豚バラ肉100gを5cm幅に切って、200度で熱したホットプレートで両面こんがりと焼き、焼きそば2袋と水大さじ4を入れてほぐし、蓋をして蒸し焼きにする。水分がなくなったら、ねぎ塩レモンだれを大さじ2回し入れてからめる。薄切りにしたレモンと黒胡椒、小口切りにした万能ねぎをトッピングする。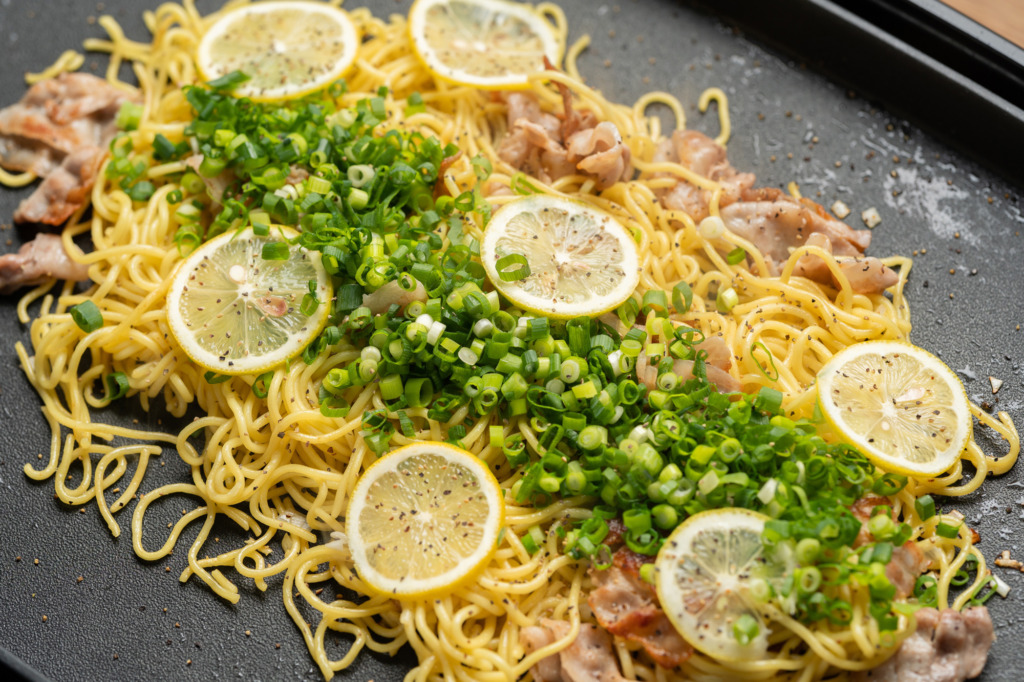 このレシピで活躍する商品
ツーリーナイロントング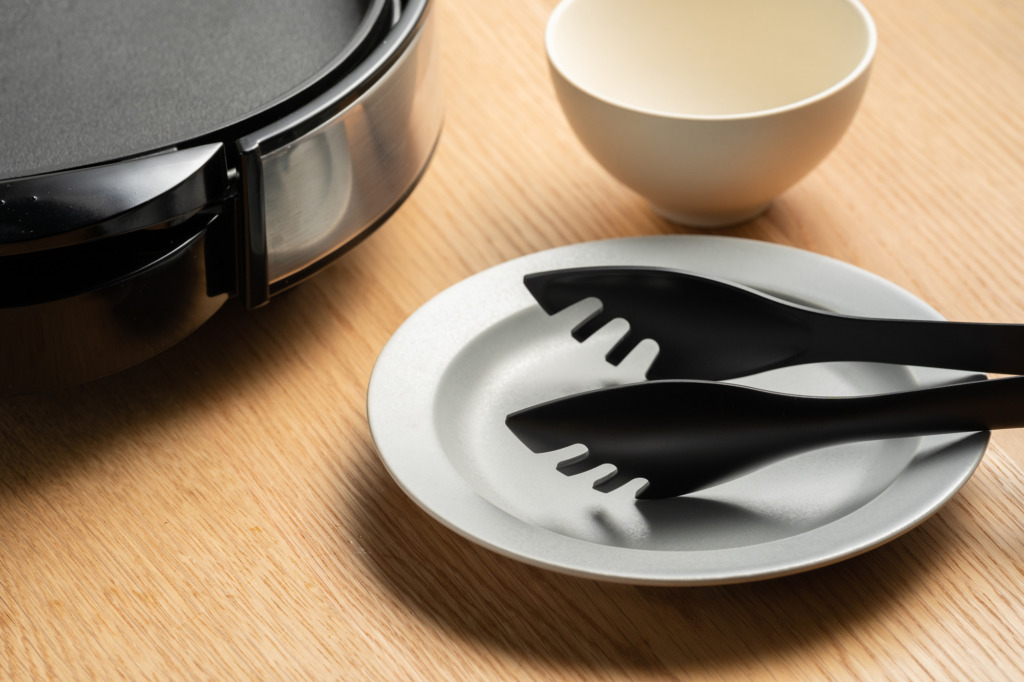 ホットプレートなどの卓上調理で邪魔にならないコンパクトサイズのツールToory(ツーリー)。ホットプレート調理で必要な「つまむ・炒める・取り分ける」がこれ一本でできます。
コーティング処理された鍋やフライパン、プレートが傷つきにくいナイロン製。曲線を生かした優しいフォルムでどんなテーブルスタイリングでも邪魔になりません。
レシピ提供
かめ代。(料理家)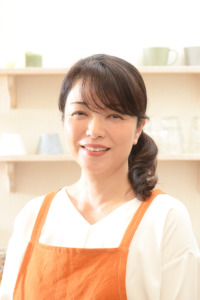 ホットプレート料理を作り続けて25年。
アイディアレシピやホットプレート料理の利点を多くのメディアで紹介し続け、「ホットプレート料理の母」と呼ばれる。著書「ホットプレート黄金レシピ」「ホットプレート黄金レシピ2」(イカロス出版)は、ロングセラーに。
毎日の食事作りの負担を減らし、家庭料理が楽しくなるコツや工夫を発信し続けている。
撮影協力